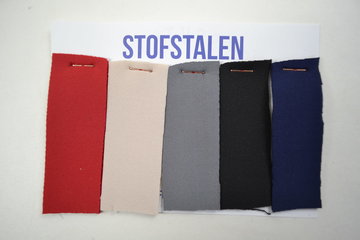 At Stoffen & Zo we do our utmost to let the fabrics live for you by means of beautiful photos, clear descriptions and product information. Displaying the available colors as well as possible on the screen is a nice challenge every time. We think we do a great job at this. However, an image with description is not the same as experiencing the material itself. That is why we offer you the opportunity to request fabric samples.
In real life
No matter how hard we try, we can never transfer the colors of our fabrics one on one to a screen. By sending fabric samples you know exactly how a fabric feels, how it behaves and whether the color meets your wishes. Fabric samples also give the opportunity to see whether the desired fabric combines nicely with your clothing or the interior in which you want to use the fabric.
Request fabric samples
You can easily order fabric samples from Stoffen&Zo. We charge €2.50 for a set of fabric samples. We send a maximum of five fabric samples per customer. We will send the desired fabric samples to you as soon as possible. On average this takes one to two working days.